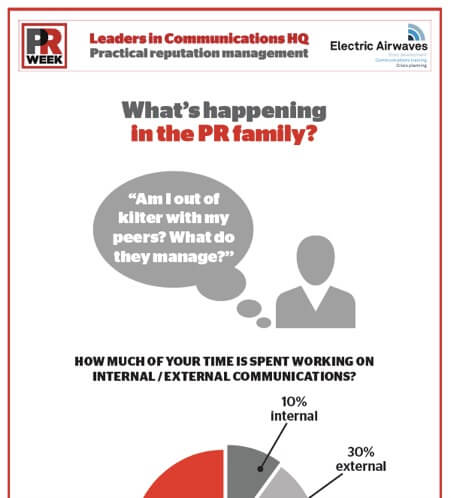 The evolution of the Communications function
In this exclusive research, conducted in conjunction with PR Week, we look at how the role and responsibilities of the communications department are changing. Just some of the questions addressed are:
Where are communications professionals now focusing their efforts?

Who has responsibility for communications in your organisation?
How much time do you spend managing digital versus traditional media efforts?
How are relationships with the marketing department?

What strategies are bearing fruit?

How well are communications strategies aligned with other strategies?
All of these questions and more are answered in a very simple infographic.
Download the infographic here.
Electric Airwaves is the leading provider of Media Training, Communications Skills Training and Crisis Communications Skill training. With the largest team of trainers, the deepest knowledge base and some of the world's leading organisations as clients, we are well placed to help you manage your reputation – in good times and in bad.
Our intellectually rigorous training process helps identify your story, stress tests it and provides participants in our training sessions with the skills and techniques to tell it effectively in such a way that is relevant to them in their specific roles. It allows them to contextualise any media interview or other communication; all spokespeople thus present a consistent narrative about your organisation.
Read more about our courses here:
Or contact us on team@electricairwaves.com to discuss your needs in detail.